GRANDVIEW'S BEST PROVIDE STIFF COMPETITION TO DIRTCAR ELITE; SUPER DIRTCAR SERIES TRAFFIC JAM PRESENTED BY PIONEER POLE BUILDINGS RETURNS TO THE HILL ON THURSDAY, JULY 14
admin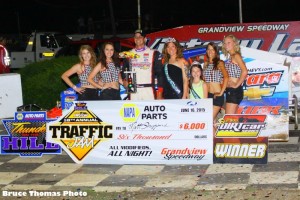 BECHTELSVILLE, PA (July 7, 2016) – The premier Big-Block Modified series in the country, the Super DIRTCar Series, heads to the Berks County high-banked Grandview Speedway on Thursday night, July 14 when the NAPA Auto Parts Thunder on the Hill Racing Series brings you the 19th Annual Traffic Jam presented by Pioneer Pole Buildings. The Traffic Jam has eighteen years of history with some of the greatest names in modified racing winning this prestigious event.
This fan-favorite event brings the stars of the nationally touring Super DIRTCar Series to the Keystone State, challenging Pennsylvania's fiercest and fastest competitors in a 60-lap battle offering $7,000 to the winner, $1,000 for tenth, and $500 to take the green flag. This is one of the most attractive purses offered for a 60 lap event on the DIRTCar tour.
Also on the program, the ever-competitive Sportsman in a 25-lap feature, paying $1,200 to the winner. With a relaxed tire rule – allowing any American Racer Track Stamp — this event is open to all area competitors that meet Grandview Speedway Sportsman specifications.
The Grandview Speedway Modified regulars will bolt into their Big-Block steeds providing some of the stiffest competition for DIRTCar's elite – and looking at the history books proves that this event, more than any event on the DIRTCar schedule can provide some surprise winners.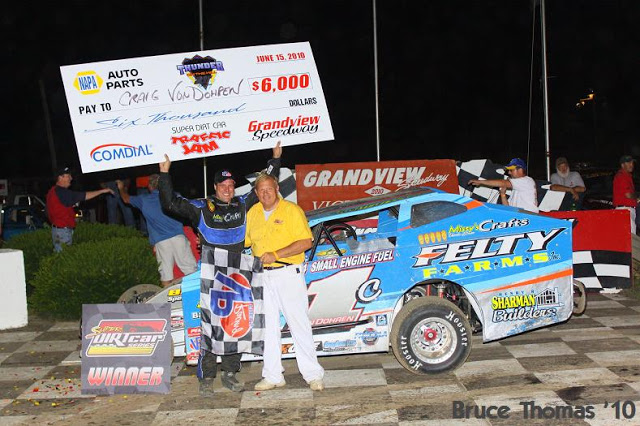 In 2010, Craig VonDohren, of Oley, PA, charged from the twenty-third starting position to take the lead and the win with 8-laps remaining, fans were on their feet as Duane Howard, also of Oley, PA, overtook the second spot for a one-two punch from the Grandview regular competitors.
Howard, himself claimed the Traffic Jam victory in 2013; with Pennsylvania-New Jersey region stars Rick Laubach of Quakertown; Jeff Strunk of Bethel, PA; and Neshanic Station, NJ's Jimmy Horton all picking up Traffic Jam wins respectively.
Leading the DIRTCar contingent is defending race and series Champion Matt Sheppard of Waterloo, NY. Sheppard claimed the $6,000 victory in 2015, propelling himself to the 2015 Super DIRTCar Series Big-Block Modified Championship. Sheppard currently sits second in the 2016 Super DIRTCar Series point standings, just 7 points behind current point leader and two-time Traffic Jam winner Tim Fuller, of Watertown, NY.
Over 20 Super DIRTCar Series regulars are expected to compete in the 19th Annual Traffic Jam including four-time Traffic Jam winner Brett 'The Jet' Hearn, out of Sussex, NJ; Frank Cozze of Wind Gap, PA, who picked up two Saturday Night wins at Grandview earlier this season; two-time Traffic Jam winner Billy Decker of Unadilla, NY; 2012 Traffic Jam winner and 2014 Forrest Rogers Memorial winner Danny Johnson of Rochester, NY; and 2014 Freedom 76 winner, Stewart Friesen, of Sprakers, NY. Although Stewart has won at Grandview, so far he has been denied a Thunder on the Hill Traffic Jam victory, something we all know he is looking to secure.
While past Grandview winners fill the field, an assembly of top-notch young drivers seek their first Thunder victory; Larry Wight aboard the Gypsum Express No. 99L; Keith Flach, of Ravena, NY, who claimed a qualifying race win in a postponed Thunder event; King Ferry, NY's Mike Mahaney, aboard the Buzz Chew Chevrolet entry; and 16-year-old competitor Max McClaughlin.
The 19th Annual Traffic Jam presented by Pioneer Pole Buildings marks the final area appearance of the Super DIRTCar Series competitors.
The complete list of past Traffic Jam winners includes: Matt Sheppard (2015), Rick Laubach (2014), Duane Howard (2013), Danny Johnson (2012), Jeff Strunk (2011), Craig VonDohren (2010), Tim Fuller (2009, 2005), Brett Hearn (2009, 2007, 2002, 1998), Billy Decker (2008, 2003), Alan Johnson (2006), Tim McCreadie (2004, 2001), Frank Cozze (2000), and Jimmy Horton (1999).
The battle of the ages takes place on Thursday, July 14 the 19th Annual Super DIRTCar Series Traffic Jam presented by Pioneer Pole Buildings.
Modified legends Kenny Brightbill and Gerald Chamberlain will be on hand to take part in the pre-race Meet & Greet.
General Admission tickets for Thursday, July 14 are $25 for Adults, $10 for Children 6-11 and Free for Children under 6. Pit Admission is $35, no license is required.
Pit Gates open at 2:30 PM, Driver's Meeting is at 6:15 PM, Hot Laps at 6:45 PM and Racing Starts at 7:30 PM.
Advance tickets are on sale now and may be ordered by calling 443-513-4456. Please provide your name and the number of tickets requested. Tickets may be picked up and paid for on race night after 3:30 PM. Advance ticket holders may enter the grandstands at 4:30 PM, one half hour prior to the sale of General Admission tickets.
Celebrating the 27th season of racing action NAPA Auto Parts Thunder on the Hill Racing Series always includes fun for the fans with activities such as Pre-Race Pit Tours, the Inside/Out Experience – where fans can sign-up to watch hot laps from the infield, JOE "THE PIZZA DUDE", giveaways, fireworks and appearances by the Thunder Girls.
NAPA Auto Parts continues their long run with Thunder on the Hill as the Series title sponsor joined by Pioneer Pole Buildings, Quaker Steak & Lube, and GALCO Business Communications.
For full rules, format, purse and information visit: www.thunderonthehillracingseries.com
Grandview Speedway
GPS USERS: 43 Passmore Road, Bechtelsville, PA 19505
Located less than a mile off Route 100, 10 miles north of Pottstown, PA
Speedway Phone: 610-754-7688
Thunder on the Hill Racing Series Phone: 443-513-4456
Series Website: http://www.thunderonthehillracingseries.com<http://www.thunderonthehillracingseries.com/>
Track Website: http://www.grandviewspeedway.com<http://www.grandviewspeedway.com/>
Twitter/Instagram: @TOTHRACING, #TOTHRACING
Facebook: http://www.facebook.com/thunderonthehill
2016 Thunder on the Hill Event Dates:
Thursday, July 14
19th Annual Traffic Jam
Super DIRTCar Series Big-Block Modifieds and Sportsman
Guests of Honor: Kenny Brightbill & Gerald Chamberlain
Tuesday, July 26
2nd Annual Thunder Cup
410 Sprint Cars and 358 Modifieds 4 Features
Thursday, August 18
All-Star Circuit of Champions Sprint Car Series
410 Sprint Cars and TSRS Sprint Cars
See Steve Kinser & Sammy Swindell return to the Grandview high-banks.
Saturday, October 15
Mods at the Madhouse Halloween Party
358 NASCAR Modifieds, Sportsman, and TSRS Sprint Cars
About Thunder on the Hill Racing Series
The brainchild of Grandview Speedway owner Bruce Rogers, special events promoter Bob Miller and local driving star Dave Kelly, the Thunder on the Hill Racing Series celebrates 27 years of the most anticipated events of the racing calendar year after year. In 119 events, over $4 million dollars has been divvied up among the area's fastest racers. What started as a single 410 Sprint Car event in 1990 has blossomed to feature a variety of racing action including 358 Modifieds, USAC Wingless Sprints, 360 & 410 Sprint Cars, Sportsman, Late Models, Midgets, Legends cars, DIRTcar and ROC Modified events.
About Grandview Speedway
Grandview Speedway is a high-banked one-third mile clay oval, celebrating their 54th Anniversary season in 2016. The facility offers free parking, quality food at reasonable prices (be sure to try the french fries), a program book, Grandview Speedway and Thunder on the Hill race wear and great viewing from every seat in the house. Race fans may take part in the Inside/Out promotion, where you can sign up (no charge) to watch warm-ups from inside turn four. Race fans are also invited to victory lane following the racing program and, race fans may enter the pits after the races to meet the drivers. Be ready to enjoy the spine-tingling fireworks salute on the feature event parade lap.