SWINDELL CONFIDENT HEADING INTO GRANDVIEW ALL STAR SHOW THIS THURSDAY, AUGUST 18
admin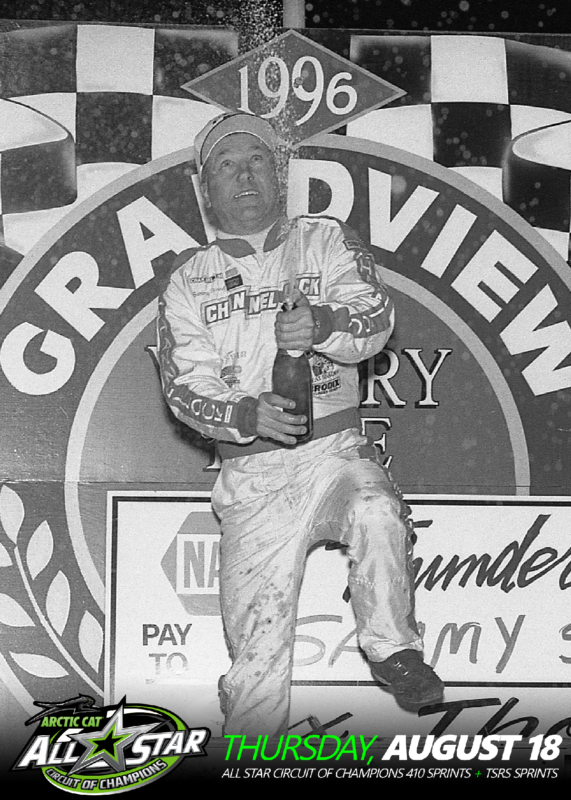 Story by Justin Snyder / PA Sprint Car News
When you have the stats that Sammy Swindell has filling up his resume, it takes a lot to find something he has not accomplished over his 40-plus year racing career. Three World of Outlaw championships and over 300 series feature wins, five Chili Bowl Nationals victories, multiple starts in NASCAR's top three divisions, and 300 plus various victories across multiple open-wheel sprint car series are just a few of his many accomplishments.
However, Swindell found a way to add to his National Sprint Car Hall of Fame career by capturing his first Arnold Motor Supply ASCS 360 Knoxville Nationals, presented by Southern Bank, and the $15,000 payday that came with it on August 6th. With the win, Swindell became only the second driver ever to win both crown jewel events at the Knoxville Speedway. He won the illustrious 410 Knoxville Nationals in 1983.
"It's a special thing to be still racing these cars and be out there competing for wins like that at my age," said Swindell, who turned 60 last October. "I'm just thankful that I still have these types of opportunities after all these years, and I'm very grateful for the career I've been given."
Looking to keep the momentum going after the big victory, Swindell will next join Tony Stewart's Artic Cat All Star Circuit of Champions at Grandview Speedway in Bechtelsville, Pennsylvania on August 18th.
This will be the All Stars first visit to the speedway in 16 years, and Swindell's first visit to the track in multiple seasons. He last visited victory lane at the speedway in 1996 when he beat Mark Kinser and powered his powder blue Channellock #1 to victory as part of the World of Outlaws touring series.
"Most of my trips to Pennsylvania have been from running with the Outlaws, so it will be a little different than it has been in the past," said Swindell, who hails from Germantown, Tennessee. "With that, it's been quite a while since I've visited Grandview, but I'm looking forward to getting out there and racing. Hopefully, we will leave there with another checkered flag in hand."
To capture the $5,000 top prize provided by Pioneer Pole Buildings and presented by the NAPA Auto Parts Thunder on the Hill Racing Series, Swindell will have to compete against a stout field of competitors. Along with an already stacked All Star roster that includes Dale Blaney and the current series point leader, Chad Kenemah, Swindell will be joined by racing legends Steve Kinser and Kenny Jacobs as they attempt to beat the outstanding Pennsylvania regulars on "The Hill."
"Pennsylvania has always been one of the toughest places in my career to get a win," said Swindell, speaking of the local competition. "Throw in the All Star guys and it is going to take quite the effort to leave with a victory. However, I've never come to a track and not expected to win. You can bet I'm going to put forth my best effort, and I fully intend to be up towards the front at the end of the night," added the decorated veteran.
Swindell's experience at the Berks County oval and Pennsylvania dates back to 70's when he was racing against local legends like Lynn Paxton, Kenny Weld, and Smokey Snellbaker. He lists those experiences as some of his favorite in his early career and credits them with making him work harder in racing.
"I always enjoyed racing against those guys back in the day. I knew that I always had to be on top of my game if I wanted to beat them," said Swindell. "Now and then I'd get lucky and leave with a victory, but it certainly didn't happen all that often."
Swindell is looking forward to the opportunity to race again with some of the legends of the sport like Kinser and Jacobs. Throughout his career, Kinser served as the primary thorn in his attempt to further his World of Outlaws legacy, and their rivalry goes back multiple decades.
"It'll be nice to suit up and race against Steve and Kenny again," said Swindell. "We are all getting up there in age and you never really know when you'll get that opportunity again. It's such a unique occasion to see those guys again and run together. It'll be just like the old times."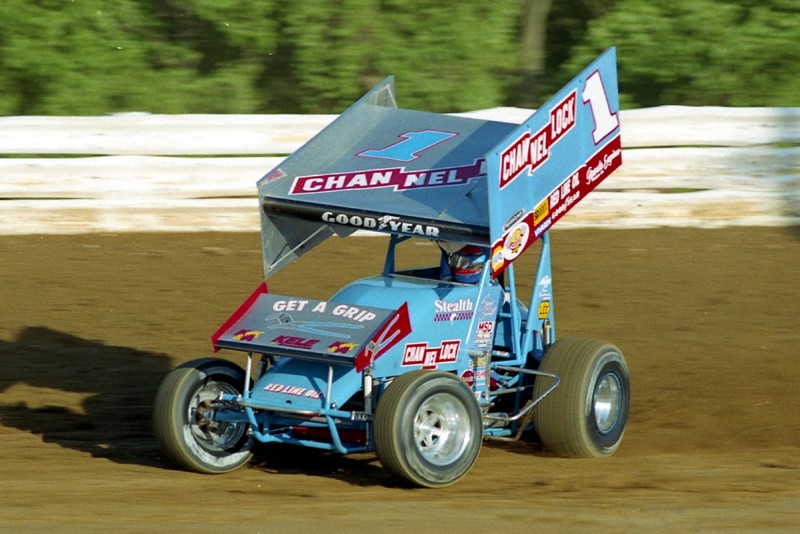 While Swindell has retired from full-time racing and he is not shy about his age, he certainly is not slowing down. Along with his most recent 360 Nationals triumph, he has two victories this year running locally at the Knoxville Speedway in the CJB Motorsports, Big Game Tree Stands sponsored #1 410 Sprint, and another victory in a 360 Sprint car at Randolph County Raceway in Moberly, Missouri.
He thrives off competing for the win, and it's the elusive thrill of winning that has kept him coming back after all these years. However, with a relaxed schedule in recent years, he's also been given the opportunity to spend precious time with his family and appreciates the fact that he can do so.
"I still enjoy driving these cars, and throughout my whole career, I've always done it for one reason… to win," said Swindell. "I still have to desire to win on any given night. I just don't need to do it every single night anymore."
And if Swindell has his way, he will leave Pennsylvania on Thursday night with another trophy to add to his case.
"If I didn't think I had a chance to win, I'd find a new occupation. I would put away the helmet and suit for good. However, I'm still out here winning, and if things go right, we have just as good a chance as anybody at Grandview."