LOOKING BACK ON 33 YEARS OF THUNDER ON THE HILL
radical1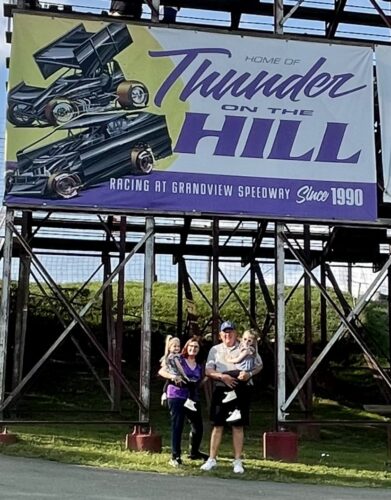 It all took shape at the Bally Hotel, a short drive from Grandview Speedway, down Route 100 on a summer night in late June 1990.
Grandview Speedway Owners Bruce and Theresa Rogers, Modifie/Sprint Car standout driver Dave Kelly and myself, sat around the table to discuss the possibility of a 410 Sprint Show at the one third mile Grandview Speedway. The decision to do the race was quickly a unanimous decision, with more time spent on naming the race. It was decided that night that the 410 event would carry the name Thunder on the Hill.
After much planning, phone calls and publicity, that initial event was about to unfold. With rain falling early the day, the clouds made way for a bright sun and blue skies. Steve Smith came home the winner of that event that attracted a huge field of cars and an over-flowing crowd. This event established the foundation of what would eventually be a series known as Thunder on the Hill, that has thirty-three years of history, 149 events and a total payoff that exceeded $5.3 million dollars.
What started as a 410 Sprint Car Series quickly evolved to be much more. From the SCRA, CRA, EWSA and USAC non-wing sprints to the DirtCar Modifieds, RoC Modifieds, World of Outlaw Sprints & Late Models, to URC Sprints, ARDC Midgets, USAC Midgets, 358 Sprints and the Legend Cars is just a sample of the variety of events presented under the Thunder on the Hill Racing Series banner.
The drivers who found the Thunder on the Hill victory lane is a list of stars most organizations would only dream about.
Some of the greatest races in Thunder history include watching Darren Clayton hold off Levi Jones and Bryan Clauson claim his one and only USAC win at Grandview in a three car battle for the win. Another memory maker was watching Craig Von Dohren start last in the DIRTCar Big Block Traffic Jam, and win the race running a small block. You just can't talk about Thunder on the Hill without mentioning Billy Pauch, jumping in the Al Hamilton #77. With just two warm-up laps, that were timed warm-ups, no heat races, Billy started ninth and won the feature event. Also, watching Greg Hodnett, Kyle Larson and Christopher Bell dominated the exciting track on the Hill was just priceless.
With 2022 reaching a close, I do want to thank the numerous sponsors who supported Thunder on the Hill. From NAPA Auto Parts to Pioneer Pole Buildings, Levan Machine & Truck Equipment, GT Radiators and GALCO Business Communications, these businesses believed in what we did and were always there with their positive support.
We also want to thank the many drivers from all divisions who answered our call to present this broad variety of special events.
Of course, the race fans were also a critical aspect to making these events such a success and to you all, we say Thank You.
Every night that the gates opened, we had a team of employees who knew how to get the job done. From the Fire and Safety crew to the hard working push trucks and the track officials who went above and beyond the call of duty. A special thank you to the Grandview Speedway Track Crew, especially Kenny Rogers and Brad Missimer, you guys just rock!
I do want to thank the entire Rogers Family for accepting me and my family into their family. What started as a business relationship thirty-three years ago has grown and evolved into so much more. There was always trust and respect as we worked together all these years and to the Rogers, we say thank you.
For now, it is a wait and see.
Whatever the outcome, we had a fantastic run and a heartfelt Thank You to all who took part in Thunder on the Hill
Bob and Donna Miller