HODNETT CUP HONORS TO GO TO HIGH LIMIT SPRINT WINNER TUESDAY, JULY 25 AT GRANDVIEW SPEEDWAY
radical1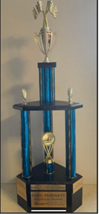 BECHTELSVILLE, PA   JULY 18, 2023 . . . . . .  .On Tuesday night, July 25 the Rich Mar Florist High Limit Sprint Car Series powered by Levan Machine and Truck Equipment and presented by HVAC Distributors will be in the spotlight at the Grandview Speedway for their first visit with $23,023 going to the winner of the 40 lap main event.  This single division show is part of the NAPA Auto Parts Thunder on the Hill Racing Series.  The rain date for this event is Wednesday, July 26 at 7:30 PM.
Along with the big check, the High Limit feature winner will have their name added to the Greg Hodnett perpetual trophy.  Greg Hodnett collected nine Thunder on the Hill Racing Series wins at the Grandview Speedway – sitting third on the all-time win list and was a six-time Thunder on the Hill Racing Series Champion.   Hodnett lost his life in a racing accident at another speedway in 2018.
Thunder on the Hill wishes to remember Greg Hodnett with the Hodnett Cup, a trophy fabricated from one of Greg's many trophies.   A base was added to the trophy where the names of future event winners will be engraved.   As a perpetual trophy, it will be available on race day for the victory lane celebration, the winner's name will be added along with the event date and the trophy will continue to be on display year-round at the Eastern Museum of Motor Racing at the Latimore Valley Fairgrounds.   Previous winners of the Hodnett Cup include Aaron Ruetzel 8/22/2019, Kyle Larson on  6/30/2020 and 6/29/2021 and Rico Aberu 6/28/2022.
Time trials will open the High Limit event on Tuesday night, July 25 with the current one lap track record of 11.243 set on August 23, 2018 by Aaron Reutzel will be up for grabs.  Following time trials, the 410 sprints will battle in a series of qualifying events leading up to the 40 lap feature event that will pay $23,023 to the winner, $2,000 for tenth and $1,500 just to start the main event.
Tickets are now on sale for the Tuesday night, July 25 Rich Mar Florists High Limit Sprint Car Series event powered by Levan Machine and Truck Equipment.   In the event of rain, Wednesday night, July 26 will be the rain date with a 7:30 PM starting time.
Adult tickets for this event are $40, children 6-11 $20 and children five and under will be admitted for Free.   The Pit fee is $45 and a license is not required.   Advance tickets may be purchased on-line at Ticket Hoss or for more information, call Thunder on the Hill at 443 513 4456.
On race night, July 25 gates will open at 4 PM for those spectators who purchased their tickets in advance.    Advance ticket holders will enter the grandstand through the Turn 1 Grandstand Gate.   General admission tickets will go on sale at 4:30 PM at the front gate.
2023 NAPA AUTO PARTS THUNDER ON THE HILL RACING SERIES
Associate Sponsors  Levan Machine & Truck Equipment, Rich Mar Florist,  HVAC Distributors, Pioneer Pole Buildings, GT Radiator Repairs
Tuesday, July 25 7:30 PM  (rain date: Wednesday, July 26 7:30 PM)
Gates Open 4:30    Advance Tickets Holder may enter at 4 PM
Thunder on the Hill Racing Series presents. . .
The Rich Mar Florists
High Limit Sprint Car Series
powered by Levan Machine and Truck Equipment
presented by HVAC Distributors
410 Sprints 40 laps  $23,023 To Win!
Sprint Cars Taking it to the Limit
Grandview Speedway Contact Information   Track Phone:   610-754-7688
GPS USERS: 43 Passmore Road, Bechtelsville, PA 19505
Located less than a mile off Route 100, 10 miles north of Pottstown, PA
Thunder on the Hill Racing Series Phone: 443-513-4456 
Series Website: http://www.thunderonthehillracingseries.com
Track Website: http://www.grandviewspeedway.com
Twitter/Instagram: @TOTHRACING
Facebook: http://www.facebook.com/thunderonthehill
Rich Mar Florist of Allentown, PA is an award-winning,  in-person and online floral gifting company.   They operate with the intent of giving back to the community and created a seamless shopping experience to help you make anyone's day better in the Lehigh Valley and beyond.   "It is going to be a great night at Grandview in July!" – Jonathan Morrissey Co-Owner Rich Mar Florist.  Give them a call at 610-437-5588 or visit their website at: www.richmarflorist.com
Levan Machine & Truck Equipment is a full-service machine and truck shop as well as a custom fabrication shop. They are located just outside of Reading, Pennsylvania. Check out our full line of truck and trailer equipment, including snowplows, and salt spreaders.   To learn about our capabilities, including CNC machining, complete driveline service, MIG,TIG, and stick welding check out our web site at www.levanmachine.com.
HVAC Distributors is a full service wholesale distributor and manufacturer of residential and light commercial heating and air-conditioning equipment and accessories operating in Pennsylvania, Maryland, Delaware, Northern Virginia and Western New York.  Visit HVAC Distributors at www.hvacdist.com or give them a call at: 800.228.4822.
 END